It was wonderful! No, I did not edit this and lie.....
I really learned and tweaked from last year, that's for sure. The changes began with ME. Oh, it is hard to admit you are screwing up. It is hard to make changes by confronting them.
I love sarcasm. Sarcasm Gets me through things. It allows me to be a screw up and make fun of myself with other people. It allows me to vent about myself and the "lol" at the end of the vent makes it all OK. Pftt. I am so drained from the excuses and cover-ups! I was not at all happy until a couple of months ago. My family is great, don't get me wrong. I love them to death, everyone knows that. I HATED ME. No, DESPISED! How in the hell did I become the overweight smoker that I always made fun of? I remember sending the girls to school and then sleeping until they came home. WHO DOES THAT? I was so depressed. Like scary depressed.
This year, I am stopping the excuses. I woke up before the kids did and got myself dressed. That is a big step for me. I am not lying and not covering up. If I am not going anywhere (I am a huge homebody!) I do not get dressed. I never go anywhere. You put two and two together. Girls, I was sinking, really sinking. You never know how bad someone is until they admit it. This was DEPRESSION. Oh did I mention dressing and showers go hand in hand? Yeah..still with me? I am doing better now and been forcing myself into this new routine for about a month. Baby steps.
Next, I made the girls breakfast. Choc chip wheat pancakes. I knew it wouldn't spike Ashley. Backtrack...last night I made sure the kitchen was clean so I would be able to make breakfast.
Then, I woke the girls up and they ate while I made myself a
Green Smoothie
. I am addicted to these. Once you figure out and get past the detox headache, you will be too. Pure energy and my cravings are way down for the naughty foods. I started out at 178 lbs and I am down to 165. Is it just the shakes? No, it is not a damn miracle drink. Cutting down the cravings made it possible to knock out sugar and soda. I have more energy so I cook more. I eat as
clean
as I can. The kids are following my lead and they are eating better as well. Who knew?
June 5, 2011 The picture that made me both sad and horrified. The pic that kicked my ass into gear.
August 20,2011 Some progress
August 22 Same Pants, too big now :) Yes, the dates are correct!
While we were eating, we did a
Mother/Daughter Devotional
. Last year we skipped the whole God part and last year was tough.
We had all of the subjects done by noon. BY NOOOOOOON. Granted, it was the first day and mostly review but BY NOON. We took a nap JUST BECAUSE WE COULD. :)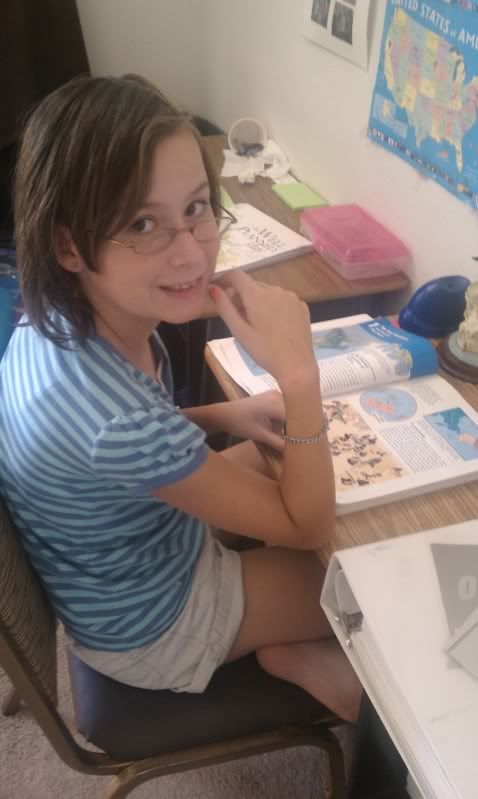 Middle School!
Third Grade and Math-U-See
Someone is about to get evicted from Decimal Street
Science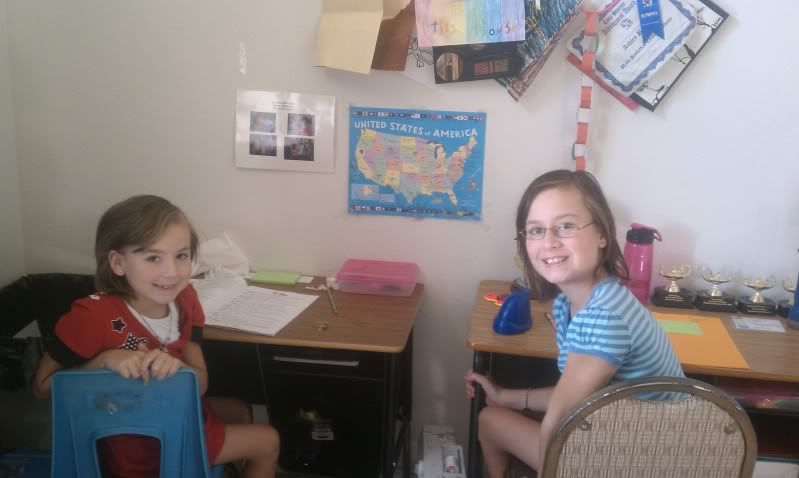 So proud of you, girls!
Might I mention we also cooked today...together....and they ate it...and it was clean? BONUS!
SUPER EXTRA DOUBLE BONUS: DANIEL SAID IT WAS HIS NEW FAVORITE MEAL.
SUPER EXTRA EXTRA DOUBLE BONUS: HE ONLY EVER SAYS THAT ABOUT MY BFF'S MEALS? (secret is out)
She ate it!
Cautious, but she ate it too!
Zucchini (or as mom says Gagoots) and Lean Sirloin Rollups, topped with homemade Marinara Sauce. Side of Sweet Potato Fries.
I would say that I can't wait for tomorrow but I know everyday is different. BUT THERE IS GOING TO BE A TOMORROW. Try and tell that to someone with depression and see if they smile.
I totally did smile.